Quick and Easy Holiday Fun
&

Christmas Tree For The Festival of Wreaths and Trees
I like to make things quick and easy. I am a Mural artist at DIANA'S Murals and More in NY area. This season I was asked to design a Christmas Tree for charity, Festival of Wreaths and Trees. I've never done that before but was always fascinated by people who do. I've loved Alice in Wonderland story ever since I read it as a child. When I watched the movie recently with my kids ages 10, 11, I was so inspired the ideas came flooding in. My kids helped me with this project making it memorable and fun for all. In a matter of hours I had designed and created hand made decorations for my project.
Most items were recycled. I used sponges to make cakes, water bottles for potions, disposable spoons, plates and cups were sprinkled with glitter for the tea party. The result was stunning. I was so pleased with the finished look. I made a connection with Salvation Army and at the end of the festival donated the Tree to a family with three kids. Sharing the joy with others made my holiday more special. I would love to share with anyone how to make Holiday decorations quick and easy.
Best wishes for the Holidays!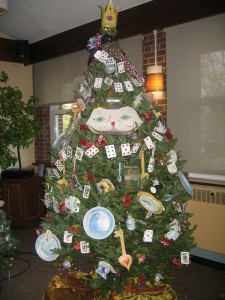 Diana's Murals | Custom Mural Painting in New York City
Diana's murals and sculptures add beauty, individuality and style to local residences, corporate offices and public spaces. Diana works with home and business owners that are looking to bring beauty and style to their spaces, and helps them design and create a look that is personal, memorable and affordable.
If you need a custom mural in the New York City area, please contact us for a quote.